Fourk Events
Every now and then we host our own tasting events as a collaboration and celebration of the arts; as well as an opportunity to try out and explore new recipes, ideas, and technniques.
---
Dine & Dance
Come join Fourk along with Alison Keery for their upcoming event Dine & Dance. They are pairing Food and Dance as you might pair food and wine! Taking place at the Brooklyn Bar on June 25th at 7PM. Food and drinks will be served in this relaxed and informal atmosphere with performances happening throughout the evening. Join us for more dancing after the show.
Time: 7:00pm - 3:00am
Location: 1186 Queen Street W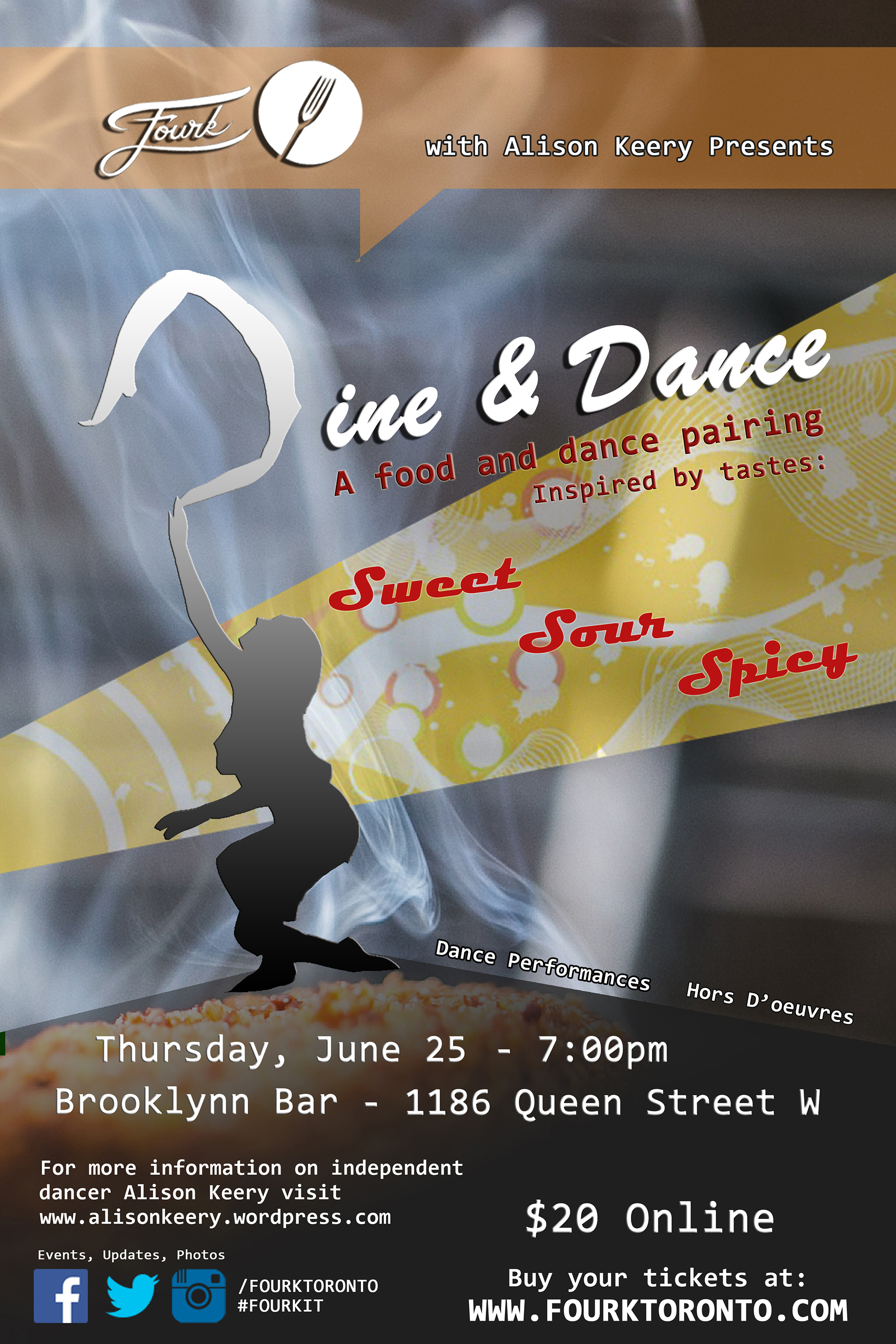 ---
Fourk @ Camp 4 Bar
We are featuring our March menu at Camp 4 Bar on Thursday, March 26. Come enjoy the relaxing vibes this cool spot of Dundas West has to offer. We are serving from 9:00pm to 2:00am. This pop-up tasting event is not one to be missed.
Pop-up Tasting Event, No Cover, Cash/Credit
Time: 9:00pm - 2:00am
Location: 1173 Dundas Street W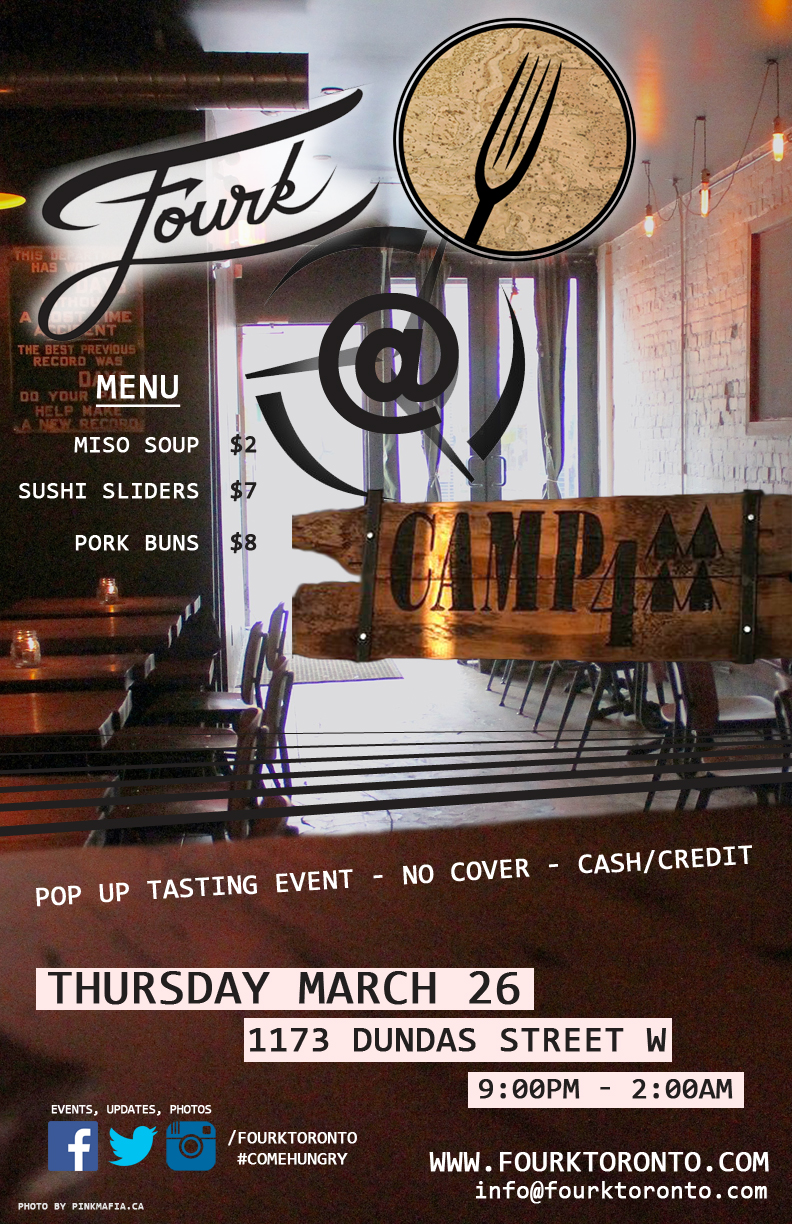 ---
Tuesday Nights - FOURK SNACK BAR - Open Mic @ Brooklynn Bar
Fourk Snack Bar is a pop-up event that we host at different locations around the city. Our menus change every month and feature dishes that we offer for catering. At Brooklynn Bar we cook for their weekly open mic night.
Music, Comedy, Darts, Food
Time: 9:00pm - 2:00am
Location: 1186 Queen St. West
No Cover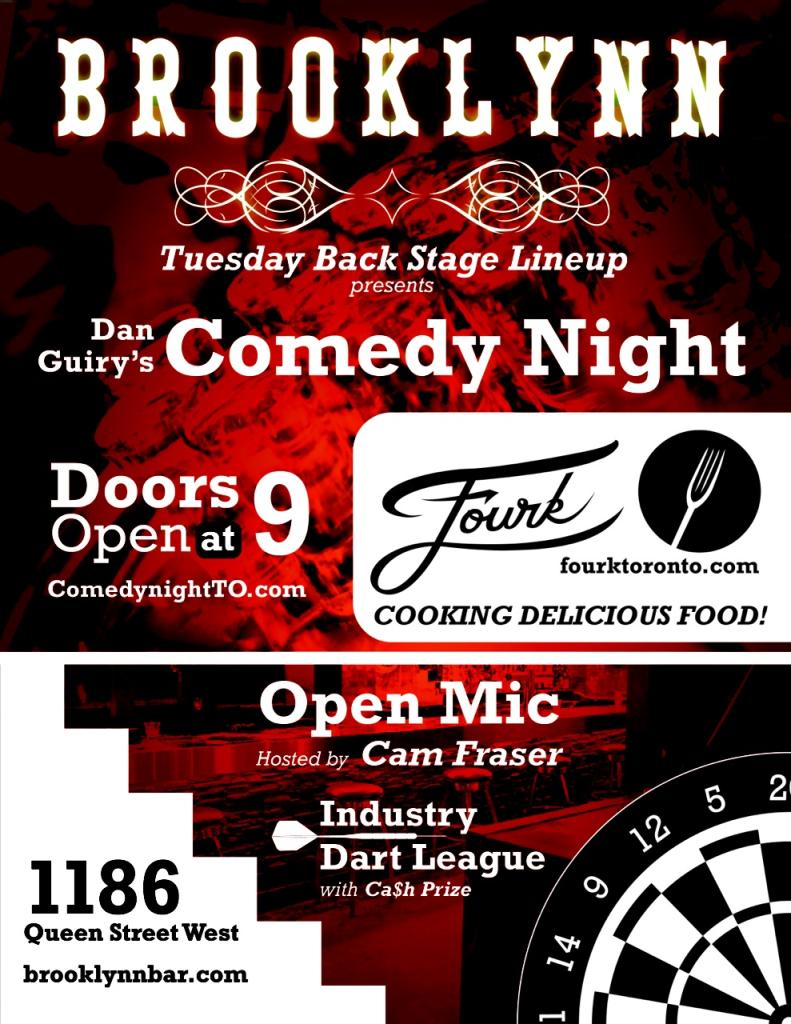 ---
August 28, 2014 - JAZZ INFUSIONS
"Man, if you have to ask what it is, you'll never know." - Louis Armstrong
Fourk's Jazz Infusions is a celebration of the evolution of jazz through food and music. Experience a three course tasting menu of modern gastro delights infused with the reminants of this genres past while listening to jazzy soulful sounds live. In traditional Fourk style, the food is a surprise.
The event will be held on Thursday, August 28 at Brooklynn Bar (1186 Queen Street West, Toronto, ON). Doors open at 8:00pm and food will be served until 1:00am. Tickets are available online through Eventbrite for $20.00 per person plus a fee. Bring a copy of your digital receipt or printout to the door for admittance. Depending on availability tickets can be purchased at the door for $30.00 per person.
Ticket includes: 3 food vouchers (1 per course) and live music
Music Features: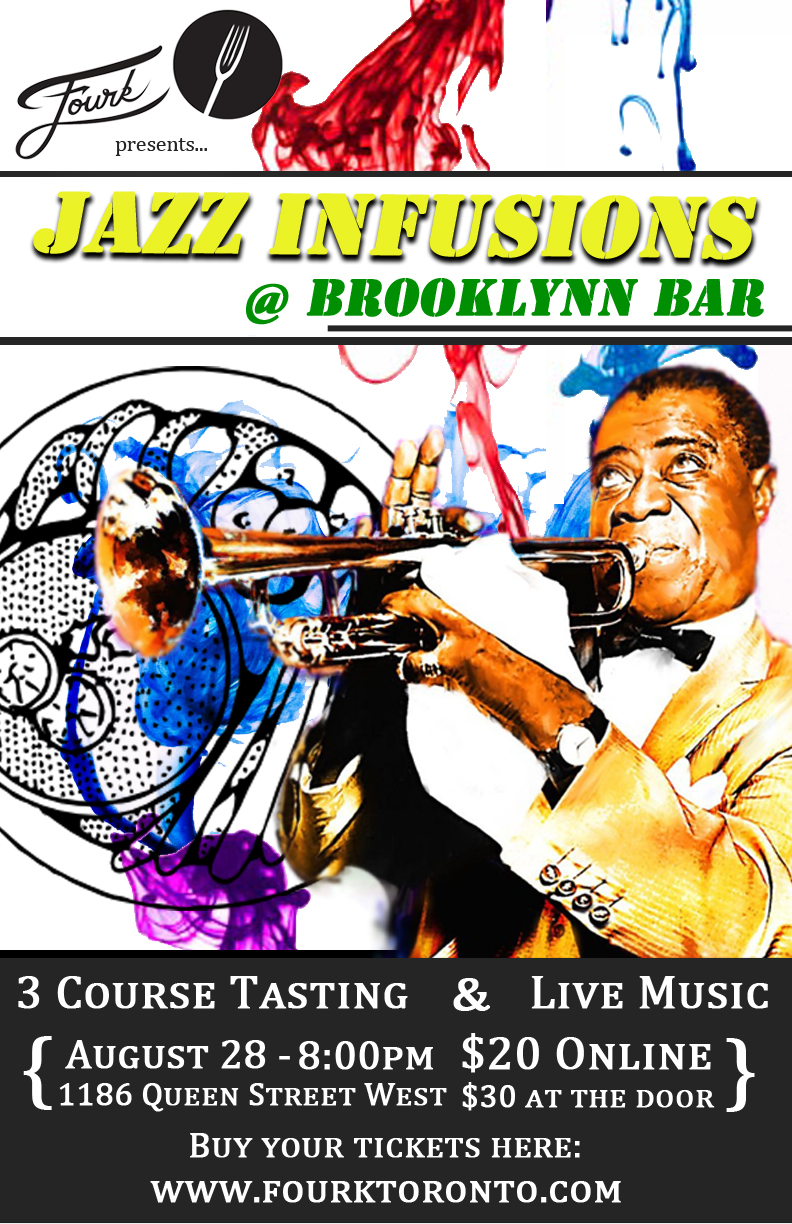 ---
April 24, 2014 - FOURK RELEASE PARTY
Fourk is an event hosting company based in Toronto. Our main objectives are to provide exceptional food, enjoyable music, and an entertaining atmosphere for people seeking the complete social experience.
Fourk is hosting a party on Thursday, April 24. Tickets are available online through Eventbrite for $10.00 per person plus a fee. Just bring a digital copy or printout of your receipt to the event for admittance. Tickets can be purchased at the door depending on availability for $20.00.
Ticket includes: live music and a surprise food dish.
Music Features: